Xilisoft Video Converter Ultimate 6.5.8 build-0513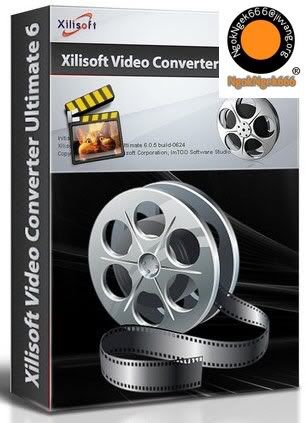 Xilisoft Video Converter Ultimate 6.5.8 build-0513 Final Version+SERIAL | 32 MB
Salam SHB !
Sharing kali ini tentang software Video Converter, ini adalah Converter termantap menurut saya, karena encoding dan plugin yang banyak menurut saya serta lengkap untuk newbie atau belum tau tentang konvert video ke frame yang lebih bagus seperti HD 1080p dengan software ini.
Description from Xilisoft official Page:
Xilisoft Video Converter
is easy, fast, reliable, and loaded with features. It's capable of converting videos of all popular formats like AVI, MPEG, WMV, DivX, MP4, H.264/AVC, AVCHD, MKV, RM, MOV, XviD, 3GP, and audio MP3, WMA, WAV, RA, M4A, AAC, AC3, OGG. Now you can convert video, audio, and animated images to play on your PSP, PS3, iPod, iPhone, Apple TV, Xbox, Google phones, iPad, iPad2 and other digital multimedia devices. All made possible with Xilisoft Video Converter.
Convert HD and SD video formats
Convert between audio formats: MP3, WMA, WAV, AAC and so on
Convert video to iPod, iPhone, PSP, PS3, Xbox, mobile phone, MP4 players, Google phones, Apple iPad, iPad2
Edit videos, clip/merge/split files, add watermarks/subtitles/soundtracks to videos
Special Effects to Individualize Videos top
Put your creative inspiration on the movies and make them look and sound fantastic
Crop Frame Size to Retain What You Want
Crop the picture frame of a video to remove any unwanted areas from it using this video converter like a pair of smart scissors.
Adjust Video Settings and Add Special Effects
Adjust video brightness/saturation/contrast. Add artistic effects such as old film, gray, oil painting or canvas to make your video look special.
Add Watermarks to Video
Personalize your video with multiple picture and/or text watermarks added.
Create Video with Subtitles
Add subtitles to your video and adjust their relative transparencies and positions.
Create Video with Soundtrack
Dub your video with your own voice or any soundtrack you fancy.
Untuk Download nya silahkan :
Download:
Xilisoft Full
Mirror 1:
Mirror Link Xilisoft Full Hotfile
Mirror 2:
Mirror Link xilisoft full uploadstation
Mirror 3:
Mirror Link Xilisoft Full Mediafire
Kemudian setelah berhasil di download, install aplikasi Xilisoft Video Converter Ultimate.
Install
Setelah prosess Installasi selesai, jalankan program Xilisoft Video Converter Ultimate. Pada versi Ultimate, anda diharuskan membayar aplikasi ini jika ingin menggunakan seluruh fungsi dan fitur aplikasi! Jika tidak, maka anda tetap dapat menggunakan aplikasi tetapi aplikasi hanya membolehkan anda melakukan konversi video tidak lebih dari 3 menit untuk tiap 1x file video yang diconvert. Dalam artian, jika anda menggunakan versi Ultimate tanpa registrasi maka ketika anda meng-convert sebuah file video dengan durasi 5 menit atau lebih, hasil convert video hanya selama 3 menit saja!
Unregister
Registered
Setelah proses registrasi selesai, maka seluruh fungsi dan fitur aplikasi sudah dapat digunakan.
Pada beberapa kasus (termasuk yang saya alami), ternyata fitur
Enable GPU Acceleration
pada
Preference
tidak bisa diaktifkan/dicentang.
GPU Acceleration Disable
Hal ini ternyata karena aplikasi pada VGA yang saya gunakan (AMD Radeon) yaitu ATi AVIVO tidak ikut terinstall waktu saya menginstall AMD Catalyst. Pemecahannya, download driver Catalyst terbaru di situs resmi AMD lalu hapus/uninstall Catalyst yang lama, kemudian Install Catalyst terbaru tersebut dengan pilihan "Custom" waktu prosess installasi mulai berjalan, dan pastikan aplikasi AVIVO dicentang untuk ikut diinstall, karena fitur AMD APP ternyata ada dalam fitur ATi/AMD AVIVO.
ATI AVIVO
Setelah selesai install Catalyst, restart komputer, kemudian buka lagi Xilisoft Video Converter Ultimate, maka fitur GPU Accelerated sudah bisa digunakan
GPU Accelerated
NEXT : Testing Aplikasi.
Berikut saya akan mencoba melakukan komparasi tentang
Seberapa Pengaruh Menggunakan Fitur AMD APP Pada Prosess Convert Video
.
- Prosessor : AMD Phenom II X4 B50 @ 3,1GHz
- RAM : VenomRX 2x2 GB DDR3 PC10600 @667MHz
- HDD : Seagate 1TB SATA II
- VGA : HIS 4850 IceQ4 Turbo-X
- PSU : TaganBZ 700W
- Software : Windows 7 Ultimate x86 & Xilisoft Video Converter Ultimate version 6.5.8 (latest)
- File : High Definition (HD) Video Clip Music format .MKV ukuran asli 702MB
Testing pertama :
Meng-convert file klip musik HD dari format .MKV ke format .AVI tanpa resize ukuran video dengan fitur AMD APP di-non-aktifkan.
Hasilnya : Waktu yang dibutuhkan adalah
15 menit 22 detik
AMD APP OFF
Testing kedua :
Meng-convert file klip musik HD dari format .MKV ke format .AVI tanpa resize ukuran video dengan fitur AMD APP di-Aktifkan.
AMD APP ON
Kesimpulan :
- Penggunaan hardware yang tepat serta aplikasi yang support akan hardware tersebut ternyata sangat berpengaruh pada kecepatan konversi file.
- Xilisoft Video Converter Ultimate merupakan aplikasi Video Converter yang KOMPLIT dan sangat mudah digunakan, serta support hardware-hardware komputer terbaru, misalnya dukungan akan prosessor MultiCore dan Fitur-fitur pada GPU seperti CUDA (NVidia) dan AMD APP (AMD/ATi).
- Yang lainnya silahkan ditambahkan KOCer yang sudah pernah menggunakan aplikasi ini