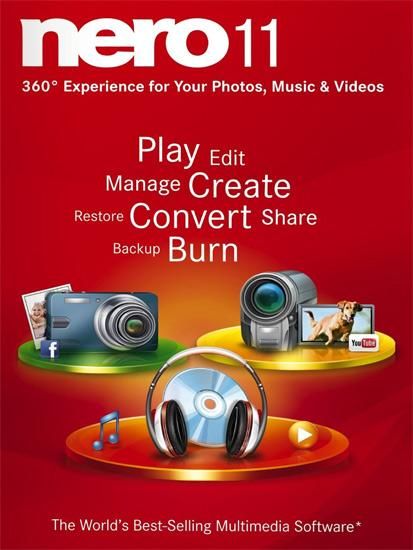 Software Burning tool Nih gan. penting bagi yang suka backup data ataupun kepentingan lain seperti burning DVD untuk nonton film di DVD player anda
Jangan Lupa bro, COPAS bikin sumber nya yah... ! soalnya, ane bukan copaser.. ane juga nulis ngetik pakek tangan !
Nero Multimedia Suite 11, yang dapat membantu kita menangani file-file media untuk keprluan Rip, Burn, BackUp, Convert dan laen-laen.
Nero11 Multimedia Suite Fullversi adalah multimedia yang unggul dalam segalanya,
dan pada versi ini adalah beberapa produk dibundel menjadi satu terdiri dari: Video Editing, Burning with Nero Burning ROM, Backup with Nero BackItUp & Burn dll.
System req nya gan:
Windows® XP SP3 (32bit), Windows Vista® SP1 or later (32 and 64bit), Windows® 7 Home Premium, Professional or Ultimate (32 and 64bit)
2 GHz AMD or Intel® processor
512 MB RAM (1 GB RAM for Windows Vista® or Windows® 7)
5 GB hard drive space for a typical installation of all components (including templates, content and temporary disk space)
Microsoft® DirectX® 9.0 compliant graphics card with 3D acceleration, 16-bit color, and a minimum of 128 MB video memory is required (32-bit, true color, 256 MB dedicated video RAM, and support for Shader Model 3.0 is recommended)
DVD disc drive for installation and playback
CD, DVD, or Blu-ray Disc recordable or rewritable drive for burning and video authoring
Windows Media® Player 9
Third party components such as Microsoft Windows® Installer 4.5, Microsoft .NET® 4, Microsoft® DirectX® or Adobe Flash are shipped with the product or automated download if not included in the package
For some services an Internet connection is required (DSL-1000 and higher recommended). Internet connection charges are the user's responsibility
Note:
*On 64-bit operating systems, applications run in 32-bit emulation mode
The devices must be correctly installed and recognized by the operating system for the product to work properly
Installation of the latest WHQL certified device drivers is strongly recommended

Untuk Fitur terbaru:

*Integrated Nero MediaBrowser : From any project you can access your library of music, photos and videos with just one click.
*Create photo books : Create lasting memories with your family pictures in just seconds with personalized photo books, calendars and cards.
*Easy and Advanced Video Editing Modes : Easily switch from Express Editing to Advanced Editing with just one click.
*Nero Live Backup : 24-7 Peace-of-mind backup with one-click Nero LIVEBackup for all your digital files and even the entire system.
*Windows Live Movie Maker : Seamlessly import and enhance Windows Live Movie Maker projects directly in Nero 11
================================================== ===================================
*Burn ke Disc atau Berbagi ke Komunitas Sosial,-Slide show dan Film dengan Menu Unik Premium
*Atur Foto dan Video untuk Kualitas Tinggi Slide-acara dan film
*Multi-track Video Editing dengan Opsi Penanganan Lengkap Keyframe
*Cepat, Mudah, dan Aman Disc Pembakaran
*Edit dan Meningkatkan Foto dengan Hanya Satu Klik
*Sepenuhnya dikontrol Backup, Efektif dalam Beberapa Langkah Mudah

Cara Installasi Nya gan:

1. Install Nero Multimedia Suite 11 >> Restart kompi





2. Setelah sampe disini, Masukan serial yang ada (9004-027E-UM18-71C6-57TK-P034-UU8X-0U4A) >> klik Next >> pilih I accept the terms........
3. Klik Next >> pilih No Thanks >> klik Install dan tunggu installasinya sampai finish.









4. Buka folder Patch dan Copy - Paste Patchnya di C-Program Files-Nero-KM. Jalankan dengan cara
klik kanan pilih Run as Administrator >> klik Patch dan tunggu hingga muncul tulisan patch sukses.



5. Finish and Enjoy



Download: Nero Suite Full